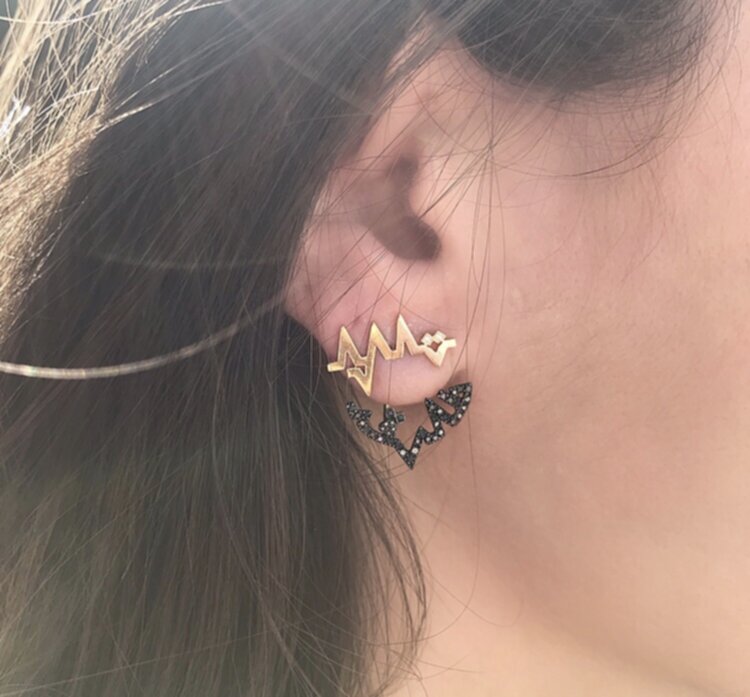 ---
As many of our avid readers know, Team Amanqi is obsessed with finding the perfect emerging jewellery labels to add to our ever-growing collection of accessories. Whether it's something fine and delicate or something in the genre of high fashion, our jewellery list is truly never-ending. Recently, we were very excited to discover emerging jewellery label, In A Heartbeat. Combining an effortless ease with fine intricacies, we won't be surprised if you find yourselves also becoming obsessed with this label.
Intrigued by the brand's ethos, we decided to sit down with the the In A Heartbeat to discuss their journey, all things designs and the growth of the brand.
---
The Journey Thus Far
Nour: In a Heartbeat was born in March 2016 out of a love for jewellery and the art of gifting. When I had initially taken time off of work to figure out my next move, little did I know that I was going to venture into jewellery design! Inspired by the beauty of Arabic calligraphy and the desire to design pieces that are close to the heart; I created my first items to celebrate two very special occasions; my friend giving birth and my other friend's birthday, and just like that, In a Heartbeat was launched. The positive feedback and increasing demand was very encouraging, and thanks to the support of my family and friends, I decided to take a leap of faith and officially venture into the world of jewellery.
Our Lifeline Collection was the first to be showcased; it is a unique concept of customising names within a heartbeat design – a twist in Arabic calligraphy, it has grown into a wide selection of items that have become our signature trademark and go-to choice for personalised gifting. Today, In a Heartbeat is a jewellery brand with a range of both bespoke and ready to wear collections. Our designs are dainty and highlight the beauty of the feminine soul, they are funky yet classy and can be worn every day and on special occasions.
Our journey has been a learning experience and continues to be. Most importantly we believe that we should stay true to the brand and continue working hard to achieve the goals we set for In a Heartbeat.
The Many Sources of Inspiration
Nour: Inspiration can come from anything! It can come out of emotion- which is how In A Heartbeat was born. I don't usually try to seek out sources of inspiration, in fact I am very much inspired by my surroundings. My designs are simple, soft and unique, they are a reflection of my character and style; I always seek to create fine accessories that allow self-expression. To me, it is important to reflect the beauty I see in everyday life onto my items, that's why I always try to design pieces that are meaningful, close to the heart that tell their own story.
An Usual Day with Team In A Heartbeat
Nour: Seeing as we are still a startup, we do not have a typical day at the office; each day has its own agenda! We are still in the process of figuring out a 'usual day' at the office.
5 Years From Now
Nour: Our mission is to create beautiful everyday fine jewellery, and a seamless, fun shopping experience for anyone who is looking to purchase our items. We want our brand to fit modern day lifestyles, where fine everyday jewelry is easily accessible and used to accentuate one's personal individuality.
5 years from now, we see ourselves as being an internationally recognised brand for designing exceptional everyday fine jewellery and personalised gifts that fit the modern day lifestyle.
The Insider Tip for Aspiring Designers
Nour: Always give it your all. We believe jewellery is personal, and so you should always be true to your brand and let your personality shine through your designs.
---
Follow In A Heartbeat: @ina.heartbeat