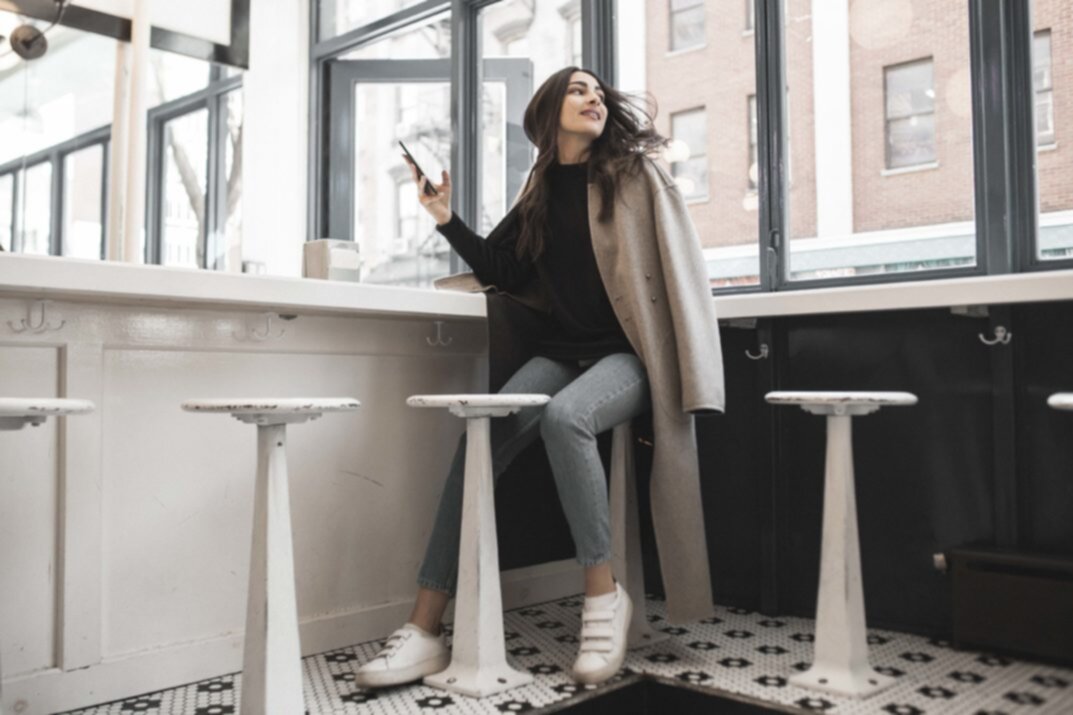 ---
One of the best things about our hyper-connected world is that we can discover the coolest talent from any corner of the globe. One such treasured find is New York-based Vingt Quatre. A contemporary luxury label dedicated to the modern-day style connoisseur, Vingt Quatre is dedicated to an unparalleled timelessness, versatility and functionality (Honestly, we're obsessed with their wardrobe staples!). Intrigued by the brand's ethos and minimalistic yet impactful designs, we sat down with designer Sumaiyah to discuss her journey, her many sources of inspiration and what it takes to be a designer in today's retail landscape.
---
The VQ Journey
Sumaiyah: Vingt Quatre is what I like to call 'an ode to an individual's 24-hour realm'. It was inspired by a personal narrative of living parallel lives between Dubai and New York over the last 10 years. Built around the persona of the multicultural Urban Nomad, VQ's products are designed to essentially fit the 24-hour realm, merging functionality and aesthetic.
The journey of being an entrepreneur has been very exciting, yet challenging at the same time. The brand concept and feel evolves continuously and has begun to mature and resonate with our customer. My experience working for other brands such as Theory, Helmut Lang, Alice and Olivia, and Elie Tahari allowed me to sharpen my skills as a designer and to understand the full product development cycle from concept to production and merchandising for the end consumer. I'm continuously learning more about the other aspects of the business and every day there's a new challenge to tackle, which keeps me on my toes and excites me.
The Many Sources of Inspiration
Sumaiyah: I tend to shoot a lot when I travel or generally throughout my day; I take photos of anything that I find inspiring. I'm fascinated by interiors, architecture, color integrations, lighting / shadows etc. really anything that is visually striking for me. I always find certain visual compositions in things around me, or the spaces I interact with, and I have this incessant need to document it. This always serves as my primary source of research because it's a visual stream of my conscience.
When creating a collection, the first thing I do is pull images from things I've captured, as well as images from similar artists, photographers, and art directors to begin a mood board that lends to a particular theme of objects, design, and spaces etc. The next step is to build a mind map of my visual thought pattern and find the commonality between the images I am collating between my primary and secondary research phase. Whilst exploring my thought process in detail, from an overarching macro theme, I usually zone into a specific micro point of inspiration that leads me to build the collection.
The Impact of Social Media
Sumaiyah: Instagram has been a great platform for new customers to discover VQ and for us to connect with our community and grow the brand. Everything is highly visually curated to lend to the brand narrative and we love to connect with our customers and get feedback from them. However, simultaneously we activate offline so that we can bring the experience in person to our community and customers and give them the opportunity to touch and feel the product and interact with the brand in real life.
An Usual Day in 
Sumaiyah

's Life

Sumaiyah: I split my time between freelance design consulting work and working on the brand. No day is similar to another;  some days are fast, others are slow, but I'm usually on the go from 8am onwards and multitasking a lot. I tend to plan my week out on Sundays, to schedule all my meetings and then allocate time to execute and work on specific projects for the brand. I have to be very disciplined with my time as I have plenty to get done during a 24 hour period. Since our team is very small and still in the startup phase, I shuffle between working on design, production, business development and marketing / PR. Outside of work I love to either start my day with a workout or end it with one.
The Favourite VQ Styling
Sumaiyah:  I think our pieces are truly versatile and transitional, and they can be dressed down with a pair of sneakers or dressed up with some heels, and that's the beauty of each piece.
The New Season Essentials
Sumaiyah:  An oversized tailored coat to throw over any outfit for a chic and cozy feel.
A tailored novelty jogger pant for a versatile casual setting or dressing up for an evening.
A basic crew neck in neutral colors for layering, or for balancing a novelty pant.
A pair of well fitted high waisted cigarette shape denims, and black skinnys.
A fun pop of color heels or flats that add flare to a neutral toned, minimal look.
A pair of clean white sneakers (eg, Common Projects) that are elevated enough to work for day and night and go with every outfit.
A leather carry it all tote that elevates every look.
The Insider Tip for Aspiring Designers
Sumaiyah: I would definitely recommend working in the industry to get some experience before launching your own brand because it's imperative to understand every aspect of the business and how it operates. After launching Vingt Quatre, I learnt that the design part is probably only 10% of the entire business so it's really important to fully understand the remaining 90%. Every designer, as a creative, should always have a mentor or a few trusted advisors who understand both the business side of things and have a creative eye, so that you have a soundboard for your thoughts and ideas. And lastly, always trust your gut.
---
Follow Vingt Quatre: @vingtquatre.ny