Bea Bongiasca mines inspiration from the designer's deep passion for contemporary pop culture, art and design and her love for colours. She's inspiring in every sense of the word, her passion and love for jewellery radiate through her diverse designs and art focuses on seeing jewellery as an art form.
We interviewed her because she is passionate, not just passionate in the way her work is stellar but passionate in the sense that her designs are an escape for their wearers, an escape from the fast-paced world.
Read our exclusive interview with Bea to see how she brought her vision to life.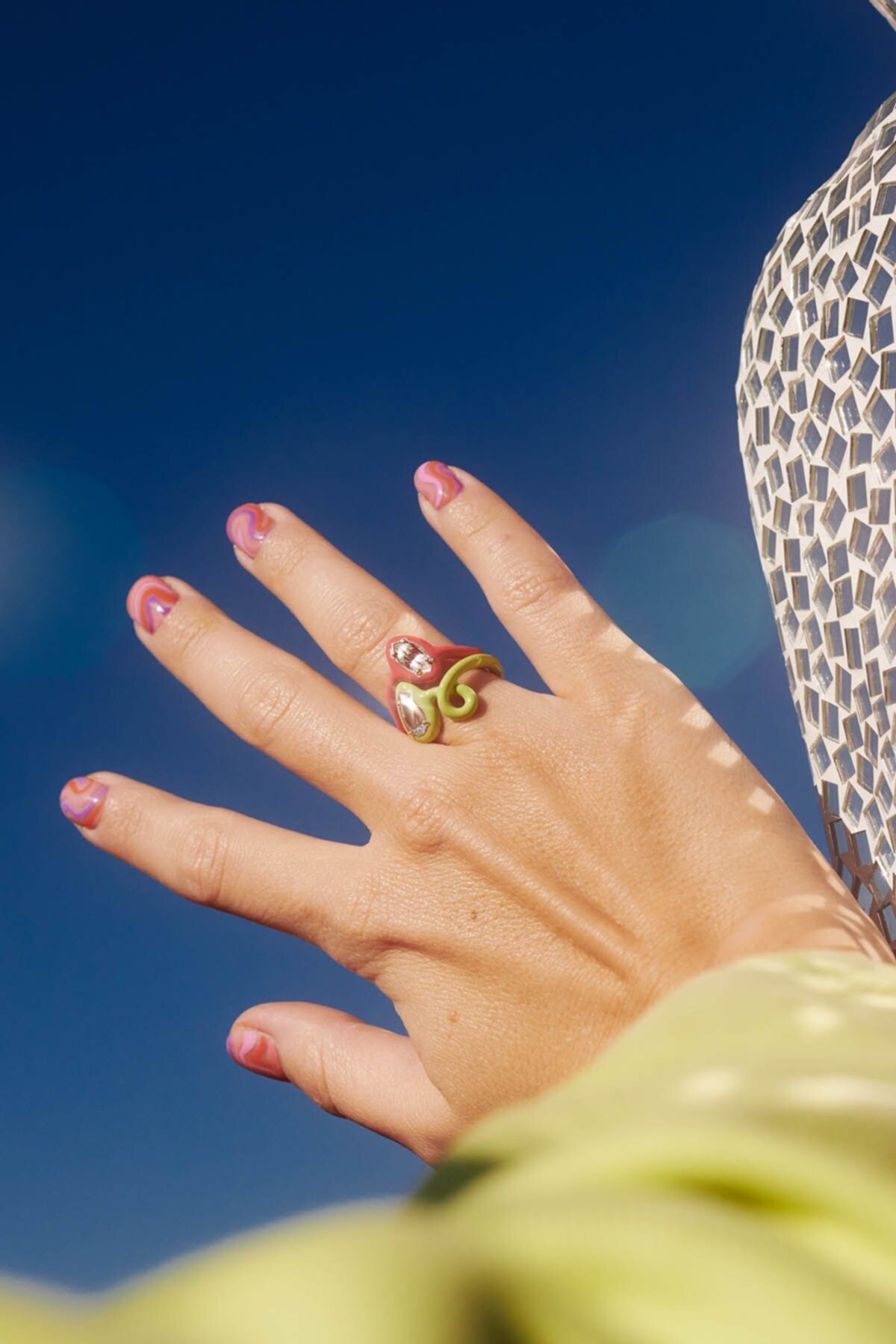 Amanqi: Introduce your brand in one sentence.
Bea: BB is a non-traditional take on jewelry that was born out of a love for all things colorful and pop.
A: Which is your favorite piece you have ever designed?
Bea: It would have to be the Happy Go Cola necklace. I really enjoyed pushing the boundaries in craftsmanship with this one. It was definitely the hardest to design to date because of the intricate detail and dimension (for example, you can twirl the flowers and all the stones are hand engraved with little kawaii faces!), and I love the quirky blend of traditional shapes and materials with the unconventional cola.
A: What's your favorite way to style the Baby Vine Rings?
B: I love styling them with each other. You can never be stacking too many Baby Vines! And then matching them with a color-blocking outfit that's full of texture. Picture a Paco Rabane metallic skirt and a bright tie-dye T.
A: How has digital media impacted your brand?
B: It has revolutionized the way we reach and connect with our customers for a more authentic experience and community. It's not as static and traditional as it used to be buying and cherishing a piece of jewelry–now we're able to devise an experience that's fluid and lasts far, far beyond the purchase point. Because of all these digital mediums, we're able to engage with our customers in ways I could not imagine when I first started.
A: Tell us about your vision for the future of the brand in 5 words.
B: Fresh, vibrant, bubbly, ironic, carefree.
A: What is the most important thing you learnt in your journey which you did not know before you started?
B: To trust the process. It sounds super mundane but I wish I had that reminder more often throughout the early stages of it all.
Follow Bea Bongiasca: @beabongiasca