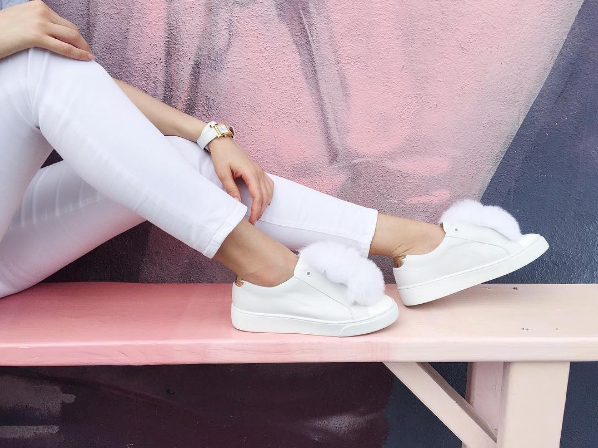 ---
The second in The Amanqi Edit pop up series, The Amanqi Edit Pop Up II is coming to Dubai this March with an incredibly curated selection of 10 GCC-based & international labels; which will prove to be the ultimate wardrobe essentials for the new season. Complemented by prominent illustrator Marwa Hashim's artistic vision and creativity, this one-of-a-kind retail space-meets-gallery is not to be missed (running from the 23rd to the 24th March at Society, Jumeriah).
In the build up to the event, we decided to sit down with the designers to discuss their journey into design & the pieces they see as 'must-haves' for any style connoisseur's wardrobe.
---
New York-based, Instagram sensation Here/Now is always our 'go-to' label for anything contemporary cool (we're still not over their 'pom-pom' sneakers). Bringing a selection of their classic & new in styles, everyone needs to own at least one pair of Here/Now sneakers (Did we mention they also have a matching mommy-and-me pair?).
Eunice: I started my journey into design as a result of selfish motives; I started because I envisioned a sneaker that didn't exist yet. It had real fur pompoms and they were comfortable so I could practically live in them! Every day, I am so inspired by the amazing women around me. Those who are pursuing their dreams and their careers, without sacrificing their individuality and sense of style.
Eunice: Denim and sneaker are the new season essentials – All the way! I have a very minimal style, so I let the key basics I wear shine through in their own way – maybe it's a pop of color or an unexpected material or fabric.
---
Combining an artistic flair with versatilely classic handbag silhouettes, Dubai-based accessory label Chosen by Fluke sets the tone for innovative & unparalleled purses and top-handle satchels that you simply won't be able to resist.
Ilham: I think all roads start and end with my mother's love for interior, which led me to study interior design. I appreciate and admire all mediums revolving the arts, and was always up to date with the latest styles fashion was bringing to the world throughout the years. Accessories hold a special place in my heart due to it being constructive. Just like a home or a design which needs to have its pieces put together to be complete, the process of creating and designing a handbag or a clutch is exactly the same.
Ilham: What has been selling fast are the calligraphy clutches as well is the velvet rose bags. A clutch due to it being smaller in size always catches the human eye faster than a bag that's larger in size. We pay attention to our materials used and the construction of the overall bag as well. A clutch needs to be part of every woman's closet for sure.
---
Combining a street style charm with an effortlessly cool aesthetic, The Letter has all your wardrobe essentials covered (albeit with an individualistic twist). From handprinted leather jackets to classic t-shirts & hoodies, The Letter never disappoints.
Mohammed: I think film and music play the biggest role in my designs. Movies that I grew up watching during the 80s and 90s and certain symbols that represent certain characters from those movies played a major part in my love for fashion. My experiences in California and the numerous amounts of rock, hip hop and electronic concerts that I attended also played a part. I visually witnessed the energy a certain wardrobe holds and specific garments hold to the majority of the crowd that was surrounded by me.
Mohammed: A lot of thought was put into the 'Land of the Rising Sun' long sleeve tee which comes in black and white; that I happen to be very proud of the end result due to its comfort. The customers who purchased the item told me that they could go to bed in that piece because of how comfortable it is. Other than that, it's my leather jackets that I have been perfecting since the launch.
---
When we first discovered Hiba Jaber last year, we were instantly enticed by the design talent's innate ability to combine a luxury aesthetic with innovative & intricate detailing for the perfect pieces of jewellery. A few seasons later we can confidently say Hiba Jaber is the new 'it' name amongst accessory labels.
Hiba: I have always been into design and different forms of Art, every since I was a child, I enjoyed working with 3D mediums. I guess I always aspired to become a designer of some sort, I wasn't sure I would end up in jewelry but I had a great fond of gems and jewelry as a subject and it just naturally grew. I worked towards building my experiences and developing my skills; studying Art & Design then majoring in Fashion Business at LCF, working in the industry and then continuing my studies in Florence in Jewelry Design and making, until I decided to design my first jewelry piece towards end of 2013 to wear my late father's name on a bracelet, and then his initial in a ring, those were the first two pieces I designed and things just fell into place.
Hiba: What are the key new season pieces everyone needs to have in their wardrobes right now?
One of our personalized Duo Ring jewels that can go from day to night!  A pair of low- block heels, and good crispy white shirt, it's a must have for every season.
---
Combining an innate passion for customisation with a thorough skill for curation, Kuwaiti label MASH is your ultimate destination for all things contemporary cool, statement & different.
Team MASH: I've had a love for customised items since childhood; I'm attracted to anything with initials.
Team MASH: The 'Micro' retro shades are the new season 'must have' in every wardrobe.
---